BERTHA, THE GRATEFUL GOURMET FOOD TRUCK
What do you get when you merge a Deadhead with a love of feeding people? This tiny 1957 canned ham camper was the spark for what is now the Grateful Gourmet food truck. She was purchased from a fisherman in Currituck, North Carolina, brought home to New Jersey, then painstakingly outfitted to be able to serve you some of the greatest hits on the Grateful Gourmet menu! Southern inspired classics like Shrimp and Grits, Collard Greens and Fresh Fries and Burgers made with only the best fresh, local ingredients.
Her name is Bertha. She's groovy and she's a complete ray of sunshine and happiness. You'll hear jam band music while ordering and waiting for your food and get to enjoy the art of @Bunkerfish who made this little beauty sing! She's available for festivals, music events and even private bookings with a custom menu to your liking. Bertha will be coming to a town near you soon so stay tuned and follow us on @gratefuldes Instagram, @gratefuldes on Twitter and @iamthegratefulgourmet on Facebook. 
WHO IS THE GRATEFUL GOURMET?
My name is Desiree - also known as Desi - and I am The Grateful Gourmet. Growing up in a large family of six, we rarely went out to eat. My mother would buy exciting cookbooks that explored cuisine from regions all around the world. From the age I was old enough to stand on chairs and step stools, I would help my mother and my grandmother choose what we were going to make for dinner. My mother's cooking was influenced by her German heritage, so we always enjoyed savory, home-cooked meals and delicious home-baked breads and desserts. My grandmother, hailing from the Pennsylvania Dutch, blended the long-held traditions of her own family's recipes with that of the the Southern variety, passed down on my Grandfather's side of the family from Virginia.
This approach to cooking proved adventurous, inventive and exciting and inspiring. We were a farm-to-table family, long before that was even a thing. My parents were self-sustaining Philadelphia area transplants, living on a rural mountain upstate, with an industrial refrigerator in the kitchen, bushels of apples on the table, and hand-raised food on our plates. Economical, healthy, and out-of-this-world delicious. I started falling in love with food, and being in service of it, as a teenager working in the restaurants business. I often found myself stepping in to help tend bar or get behind the grill for the day. In college I cooked for my roommates, feeding anyone that couldn't make it home on weekends or holidays. We were all on tight budgets, so everyone pitched in for groceries, and I'd whip up a nice, homemade meal. They loved it... and I loved doing it.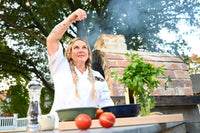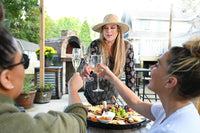 Even upon entering into the corporate world of sales, as a specialist in training and recruiting, I always kept my toe in culinary waters. I became known in the office for being the one who brought in the delicious dips, cakes and casseroles. Soon I found myself booked for small catering gigs, birthday parties, bridal and baby showers, weekend festivals and eventually larger community events and weddings. I delighted in customizing my menu for each unique client. Enter the COVID-19 pandemic, when corporate cutbacks unexpectedly propelled me into realizing my long-held dream of launching the Grateful Gourmet into the world.
Whether by way of food truck, home delivery or custom catering services, The Grateful Gourmet is officially here and happy to serve.
The brand was born from the love of music, fellowship and food. It's the stuff of happiness. I always say, "If you bring your heart to the table, the rest just follows."
Things I love outside of food include music, reading, entertaining and event planning. I find joy in giving back to those who serve in the healthcare community and local food banks. Somehow, for me, it just always comes back to sharing gratitude for all things: peace, love and good food.
FOOD MADE WITH LOVE
The Grateful Gourmet is all about peace, love and good food.
Wow, just Wow! I have had really good food from food trucks at Hawk Haven (the best winery in Cape May), bur the Grateful Gourmet was out of this world.At first glance the menu items look deceptively simple, but there are levels of flavor with each dish.My hat is off to these chefs (and they are chefs). My conclusion, try everything, and I am.not kidding.

James C.
"How do you describe such absolutely amazing food and quality? The quantity, the deliciousness and the uniqueness is above and beyond. Your palate will thank you for introducing it to this wonderful food."

Denise T.
This was the most delicious food we ever had! Fantastic! Your talent is amazing! Food prep is one of the most difficult arts and you mastered it with perfection! Everyone was amazed! We only spoke about food all night lol You were my star of the show! Everyone asked who are you and where you are from! My parents sent special thanks from them as they were amazed by the dishes! We are so grateful for your work! It was really special. It is very hard to find someone like you! Thank you so much!

Anastasia D.
"Delicious, creative cuisine. Food is consistently amazing. Can't recommend The Grateful Gourmet enough! Des is the best!"

Hillary L.
"5 star meal for an amazing price. Wonderful service, fantastic presentation and the food is absolutely incredible. I can't wait to place my next order. I highly recommend for any occasion. Thank you Desi."

George F.
Back on the Road! Check in on Social Media for our menu serving at a location near you!
Custom made orders can be placed.. just give me a call or inquire!
GRATEFUL GOURMET CATERING & PARTIES
Delicious food that meets all of your party needs, The Grateful Gourmet offers a wide variety
of culinary selections, customized according to your tastes, dietary needs and type of event.
The Grateful Gourmet is perfect for creating memorable private parties and events,
I am available with or without the Food Truck.
Reach out to inquire about specialty pricing for corporate events, birthdays, baby and bridal showers, wedding and anniversary celebrations and employee appreciation events, corporate catered lunches.
Click on the button below to schedule your consult with Desi. We even do wedding food and wine tastings.
The food truck is generally booked out a few months in advance. So be sure to secure your event.
A non-refundable deposit is required for food truck or catering events.
Remaining balance is due the day of the event. We have an 18% gratuity charge on all events and additional charges apply for events outside of 25 mile radius. Most events generally run two hours
but we are happy to accommodate your event.
There is an hourly charge for the food truck.
Local taxes apply.
We provide all plates, utensils, napkins and condiments on food truck.
We use eco-sustainable paper products only.
We arrive 60 minutes prior to the event with the food truck and take 30-45 minutes to breakdown.
The food truck needs a flat spot to park, and it's helpful to have enough space for the pickup truck that hauls it, however we can easily move the pickup out of the way as needed. We are generally capable of plugging into any electrical outlet, however we do bring our own quiet generator for self-sufficiency.
Follow @iamthegratefulgourmet @gratefuldes on social media for updates
and sign up for our calendar to follow us on our journey in peace, love and good food!